This page explains how you can get the LISA BusinessPro module deployed in your Dynamics 365 Finance and Operations environment.
Deployment guide for LISA Reach Sales can be found here.
Deployment guide for LISA Reach Operations can be found here.
Tip: If you have requested a new release/version of LISA which you're already using, there is no new licence file required. You can still continue to use the existing licence file unless there is any change to tenant name or serial number of D365 Environment.
1. Find the tenant name and serial number – this can be found from the Help (? Icon) > About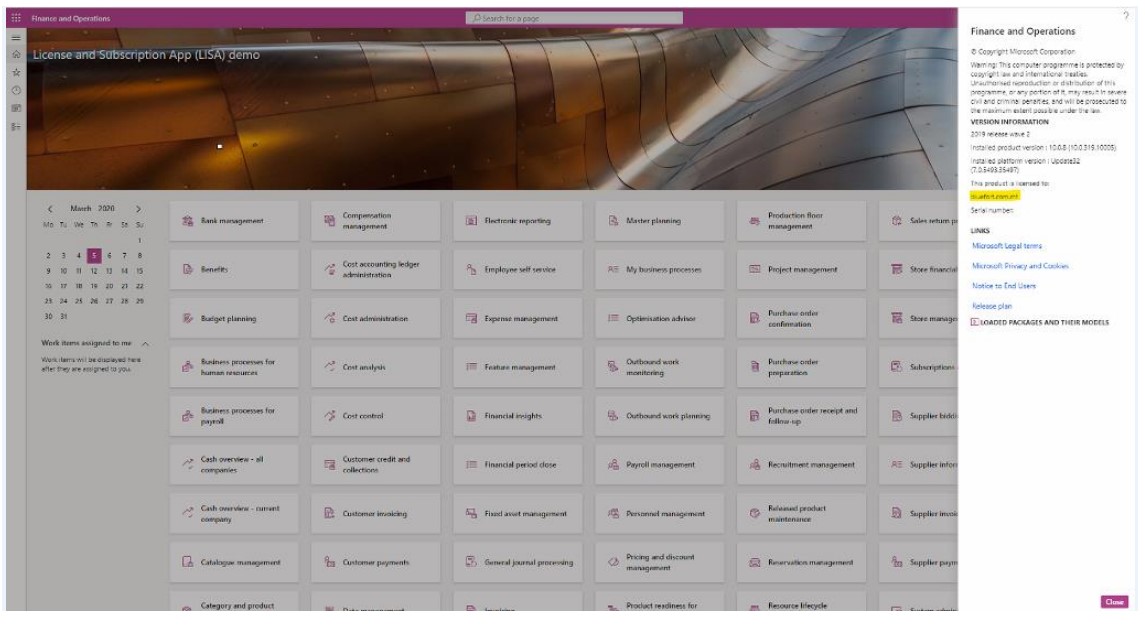 For FinOps v10.0.9 and later the dialog changed as follows: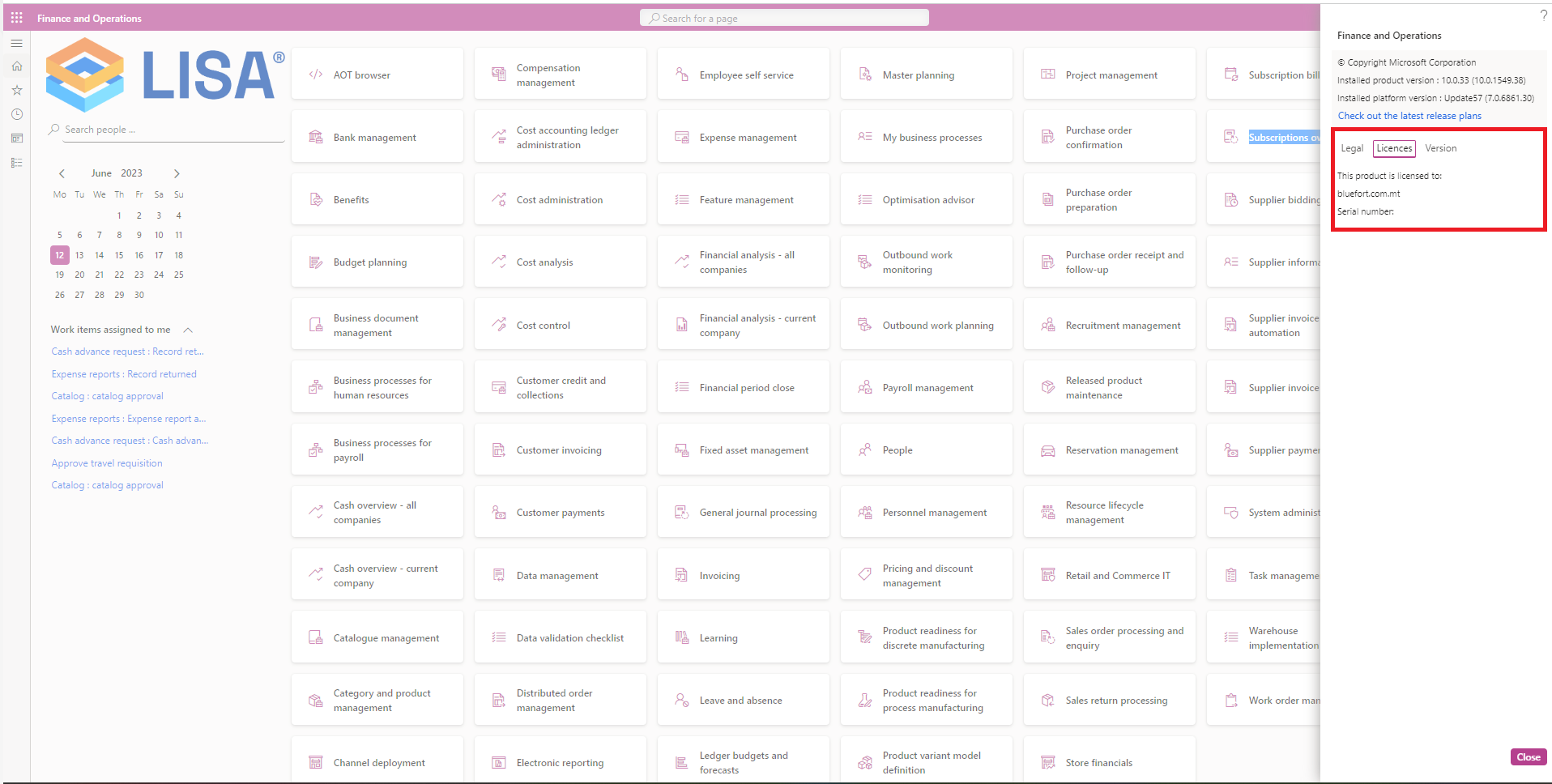 2. Find the LCS customer project URL by clicking on the customer's project tile and copying the URL from the browser's address bar
3. Send above details to Bluefort license deployment team – support@bluefort.com.mt . To avoid any typing errors we suggest you send Bluefort support a screenshot of the Help > About menu (as above).
4. Once a license file is generated, bluefort support will reach out to send you the LISA license file
5. Provide bluefort support team with a list of usernames (e.g. jdoe@contoso.com) that should be invited to the LISA LCS project called "Enterprise License and Subscription Automation – LISA"
6. Once the above users are added by bluefort support team, the users would be able to obtain the LISA BusinessPro files. From the LCS Asset Library, import / pull the latest (or specific) version of the LISA solution package which contains the Software Deployable Package and the Release notes as per screenshot below. The steps are outlined by the red boxes so these would be:
Click on the Solution Package tab
Click on the Import button (if importing the solution the first time) -or- the Get Version button (if you want to pull a newer version of an already imported solution)
If you are importing for the first time choose Enterprise License and Subscription Automation (LISA) and then click on the Pick button.
If you are pulling a new version of LISA BusinessPro, select the version you want to pull (typically you would want to pull the latest version so you would select the one at the top of the list) and click on the Get Version button.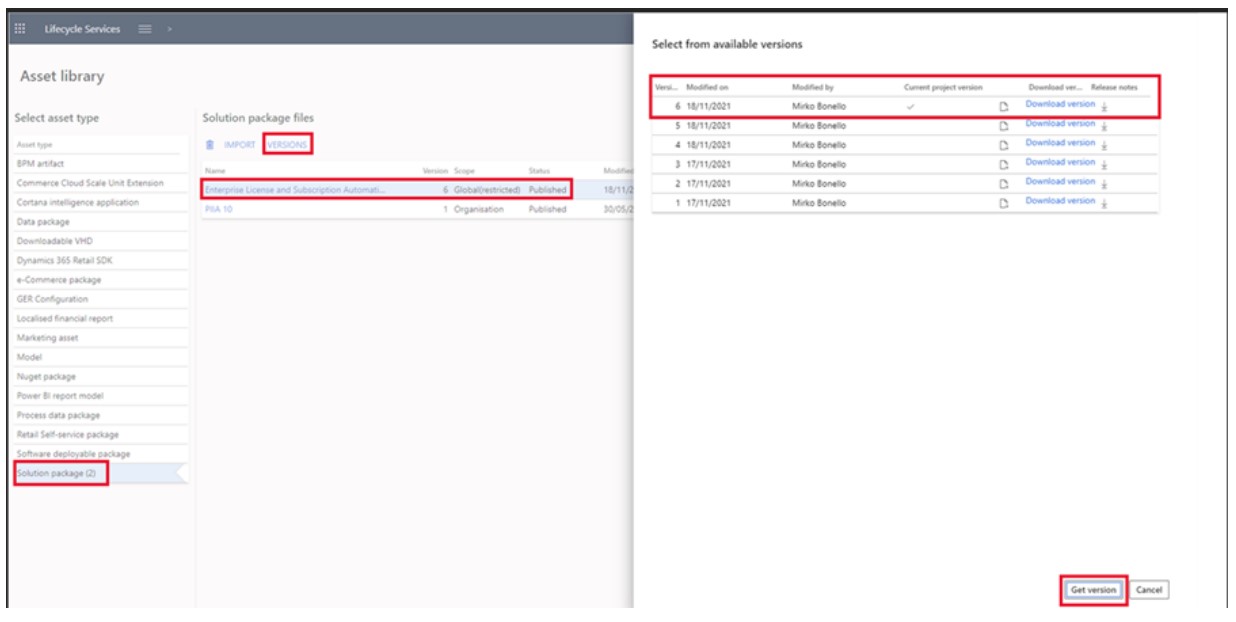 After clicking on the Pick / Get version button the LISA BusinessPro deployable package will appear under the Software deployable package tab and from there it can be used in the next steps.
Note: Depending on LCS performance levels at the time you import LISA BusinessPro to your project, sometimes the import process might take a while.
Other points:
Upon successful deployment of the module you should see a new module called "Enterprise subscription automation" in the main menu of Dynamics 365 Finance and Operations, as shown in the screenshot below.
Non-admin users must be assigned the right permissions in order to use the functionality within the module.